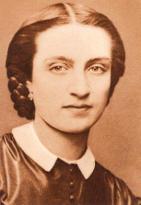 Leonie Aviat was born September 16, 1844 in Sezanne, France. She attended the Visitation School in Troyes, the school of St. Francis de Sales. With the influence and guidance of Mother Marie de Sales Chappuis and Father Louis Brisson, Leonie received the calling to a life dedicated to Salesian Spirituality.
In 1858 Father Brisson, a man very much committed to God and humanity, founded a center where he would welcome young girls working in the mills. Leonie Aviat was also very much devoted to a Salesian life co-worker and a zealous apostle, like himself. He decided, under God's inspiration, to establish a religious congregation to direct this important work.
Aviat was called to help the young factory workers, thus the new congregation of the Oblate Sisters of St. Francis de Sales to help the came to be founded. The congregation identified with the spirituality and the teaching principles of the holy Bishop of Geneva.
In 1868 Leonie received the honorous name Sister Frances de Sales. She made profession of vows on October 11, 1871. In 1872, she became the first Superior General of the Institute.
Under her guidance, the community grew in numbers, the social apostolate unfolded and girls' schools were opened. In Paris, the first residence for young ladies was started, an establishment which Mother Aviat directed for eight years. Thus, the apostolate of the Oblate Sisters extended to the different classes of society and to diverse forms of education.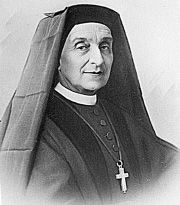 Mother Frances de Sales guided her Sisters through the religious persecution in her native France and developed the works of the Congregation in Europe, South America and Africa. While maintaining the establishments that could be continued in France, she transferred the Motherhouse to Perugia, Italy.
On January 10, 1914 she died in Perugia. To her last breath, she remained faithful to the resolution she had taken at the time of her profession: "To forget myself entirely." To her daughters she left, for all time, the very Salesian precept: "Let us work for the happiness of others."
The Oblate Sisters since then have continued to grow in countries throughout Europe, Africa, and the Americas. The Sisters staff three schools in America: Mount Aviat Academy in Childs, MD; Saint Bernadette School in Drexel Hill, PA; and Holy Cross Academy in Fredericksburg, VA.
Leonie Aviat was beatified on September 27, 1992 and canonized November 25, 2001.